Bryn
Sophisticated polished links form a stunning yet comfortable choker. Circa 1970, this piece makes every outfit look polished, as if Coco herself were your designer! (fits most neck sizes. If in doubt, please email for exact circumference.) $99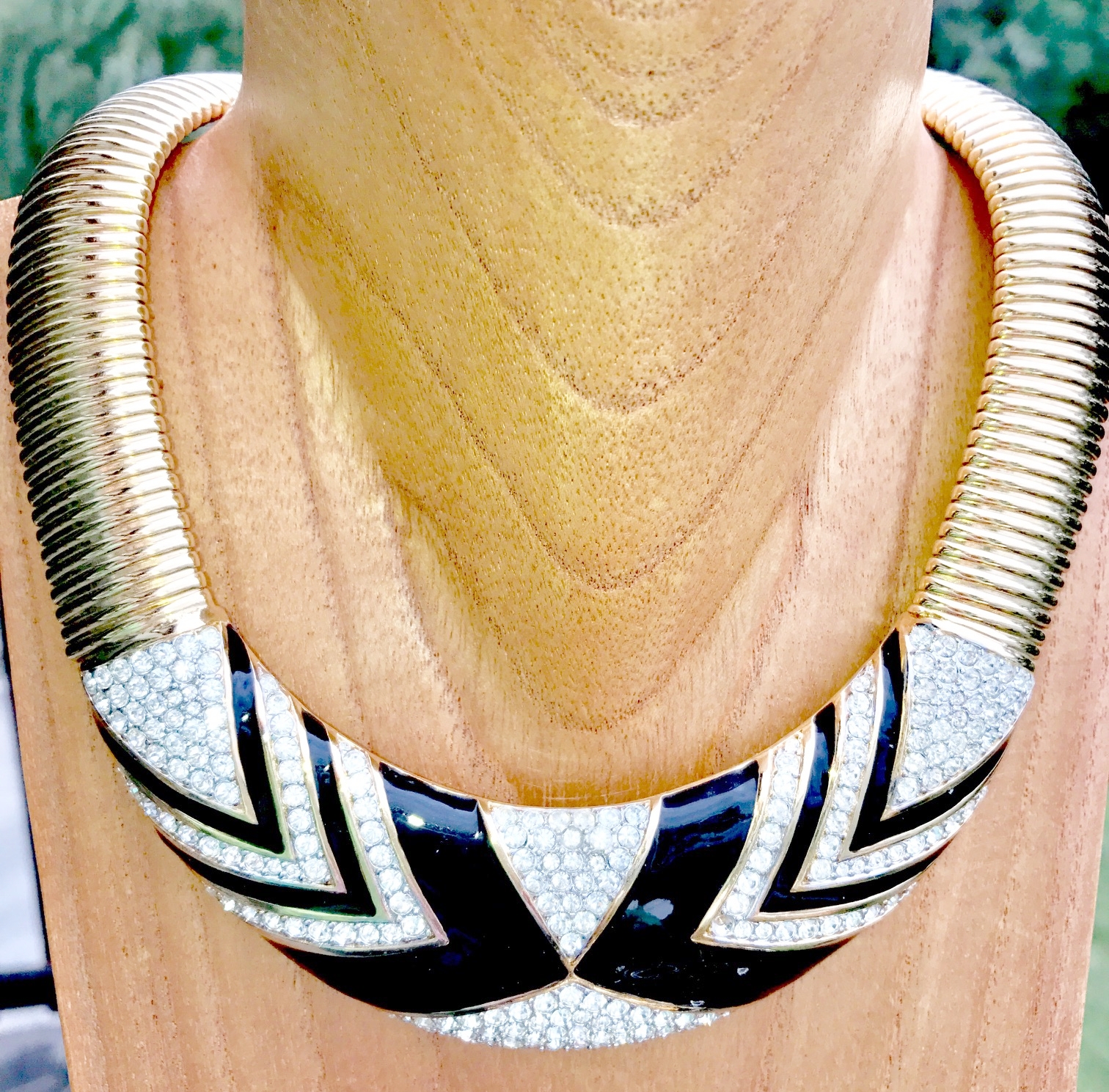 Claire
Vintage pave rhinestones and black enamel, created in the 1960's as an ode to the art deco era of design. This fits any neck regardless of size. Truly a fabulous piece that has been preserved. $150
Dawn
Elegant simplicity in a multi-ring choker, that extends from nape of the neck down in concentric circle, each with randomly placed single rhinestones. Dates from the 1970's. [note that 1 rhinestone is missing, although it is virtually impossible to see] $95
Eve
Artist made vintage find: silver [could possibly be sterling, but not marked so this is priced as silver plate], with bronze/gold tone metallic edge. This is a collar, with no clasp. Fits smaller neck sizes. If you're lucky enough to fit this piece, it will be noticed immediately in every room you enter! $125.
Fae
Polished goldtone links form a long choker. Dates to the 1980's, and complements every wardrobe. $75
Grace
A Very unusual vintage find. This ultra-long lariat pairs multi strands of hemp cord with nuggets of Amber, burnished by silver or pewter findings. Great to add interest to casual sweater tops! $85
Hope
Long multi-strand of braided pewter toned links. This piece dates from the 1990's. It hangs gracefully and beautifully over light sweater tops. $85
Ivy
Gorgeous vintage Christian Dior - Long chain, with clasp, that can be doubled or possibly even tripled around the neck. Polished links interspersed with lapis set with pave rhinestones. A true collector's piece. $225
Joy
Vintage chunky links form a choker, with clasp designed to be worn either in front or back. Classy piece from the 1970's era when metallics were the rage. $75
Kay
Handmade sculpted links of brass, form a 17" chain. Aged with fabulous patina. Circa mid-century modern era, or possibly even earlier. Very unusual find. $125.
Lark
This is a companion piece to Kay, shown in the prior thumbnail photo. Artist-made in the early to mid 20th century from hammered copper, aged with a wonderful patina. 17" long, and so graceful! $125.
Mia
Mid-length necklace, (approx. 20"), that hangs in a lovely curve of thickly braided gold metallic cord, that shimmers as if composed of tiny bugle beads. Likely made in the 1980's. Huge impact for a tiny price! $35.
Neve
Stunning hand crafted necklace, possibly of pewter. (no metal markings on it, which is not unusual for handmade objects) This piece looks as if it was made in Mexico or South America. The scallop shape and patina are very flattering as they frame the face. Length can adjust with extender at the back clasp. $145.
Poppit Beads
Maybe I'm dating myself, but I can recall the days of poppit beads....just barely! I found these in an antique store and couldn't leave without them. I have them in 2 nesting chokers, but you can create whatever you want with them. And the goldtone actually fools a lot of people when worn with a tailored suit! $50