Ambrose
Bracelet composed of Jade, Cat's Eye, Crystal and Freshwater Pearls. Vintage clasp $55
Buckley
Bracelet composed of Picasso Jasper oval beads, with Czech Crystal. Pewter-tone toggle clasp. $55.
Chester
Bracelet composed of black glass leaves, with silver veining. Toggle clasp. $55.
Darnell
Bracelet highlighted by a long carved ivory bead, accented by Gold and silver filigree. Swarovski button and loop clasp. $65.
Kasper
Fabulous vintage clip earrings from the mid-century modern era!
$45.
Lasker
Dramatic Black & Pearl Lucite - pierced earrings from mid-century. Approx. 1.5" diameter. (Very lightweight on the earlobe) $55.
Morris
Luminous Aqua Lucite clip earrings from mid-century. Approx. 1" in diameter. $55.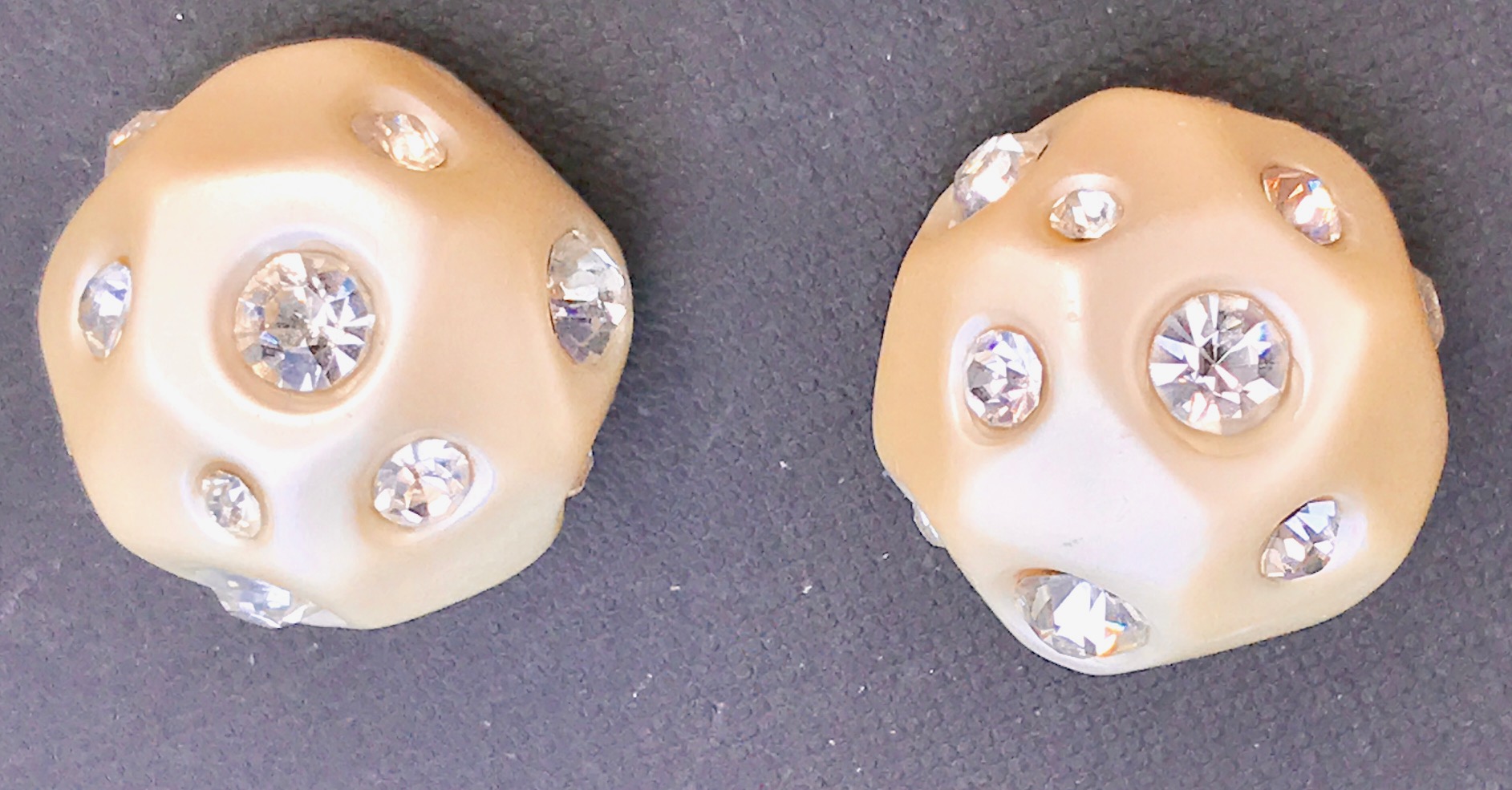 Noble
Fabulous mid-century artisan creation of creamy lucite earrings with rhinestones set into facets. Elegantly cast light on the face. Approx. 1" diameter $75
Oliver
Early 20th century crystal aurora borealis rhinestones imported from Austria set into silver tone earrings in the early costume jewelry capital of Providence, RI. Clip earrings, approx. 1.25" in Diameter. $75
Parnell
Mid-century lucite earrings in pale peach flower. Pierced, approx. 1.5" long. $55
Queen
Festive, sparkling drama! Mid-century black and white rhinestones on lucite, dangle & catch the light. Fabulous for a party or performance ! Clip earrings, approx. 1.5" wide x 2" long. $85
Rosette
Mid-century clip earrings - stunning 3 dimensional silver tone Magnolia blossoms, approx. 1" in diameter. $65
Shane
Early 20th century antique clip earrings in Mother-of-Pearl. Beautiful subtle glow and stylish a century later! $85
Terence
Vintage clip earrings (circa 1970's or '80s ??). Approx. 1.5" in diameter. $45.
Urie
Vintage Porcelain Clip Earrings - hand made by artist in opalescent cream, with a hint of gray, rose & blue. $55.